Is it really two weeks since my last post, only seems like two days.  Life is hectic at the moment, so blogging takes a back seat.
Eating does not.
We are still enjoying our pick and choose cooking challenge, although it has slipped a little.  That does not mean to say we have not tried our hands at new dishes or flavour combinations, far from it.
Take Thursday for example.  Neither of us knew what we wanted.  A quick scan through the freezer and I made an executive decision.  I would cook some stuffed Chinese leaves.  We had some pork medallions that needed using and I had enjoyed this meal in San Francisco, back on my big trip in 2003.
Finely chopped pork, mushrooms, spring onion, ginger, soy sauce, egg and a birds eye chilli.  All wrapped up in pak choi leaves and steamed.  Served with boiled rice and a delicious sauce, made with rice wine (sherry) soy sauce, oyster sauce and a little cornflour.
Chopping the pork also gave me a good excuse to unleash my most fearsome knife.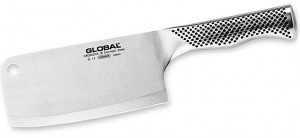 Ah the joy of using good tools in the kitchen; I do love my Global knives.
It was a delicious meal and pure coincidence that it was February 14th.  A good way to celebrate our life together.